Hey everyone! Over the past few weeks I've been making beaded crowns for when you need a great big whopping crown on your head. For all those fancier Lolita outfits, cosplays and fancy dress outfits and more!
The first one I made was a smaller version of the one I made myself to wear for Frock On. My Frock On outfit was a Gothic Butterfly Princess look so I decided to name this one 'Amethyst Queen'. I made two, available to buy
here
.
This one is an idea I had floating around for a little while, plus I wanted to test out some thicker wire. The thicker wire is a lot, well, thicker but most beads won't fit on it doubled up. I aptly named this one 'Candy Kingdom' (you can buy it
here
) because why not? The heart beads remind me of Smarties for some reason.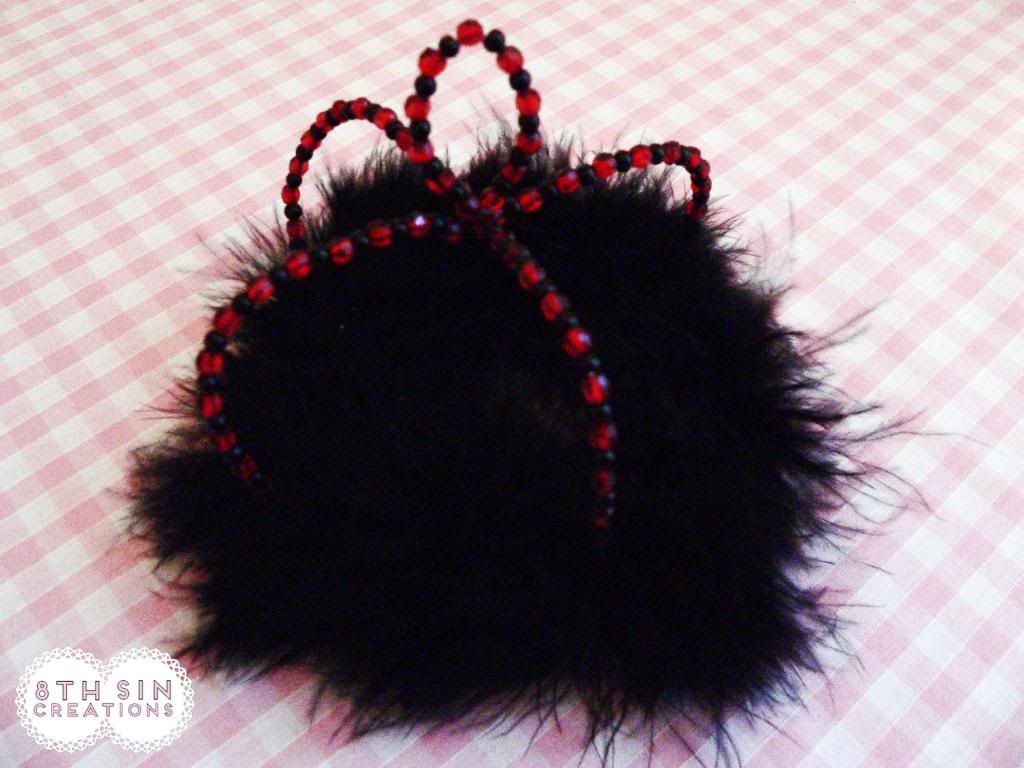 I named this one 'Of Blood & Crows', available to buy
here
. It's a variation on one I made myself to wear for J-Con next week that I am thinking of making more of but I need your lovely advice first.
As you can see I make a lot of the designs with feather trim, mostly because it gives a bit more substance to the crowns and because I can easily attach four (yep, four) crocodile clips underneath for extra stability and weight distribution.
However I'd like to make more with just plain beaded based so I made one out as a test for me to wear to J-Con in Derby this weekend. I'm tossing around 'Queen of Hearts' or 'Paint the Roses Red' for names for this one so let me know which one you prefer! Here are some photos!: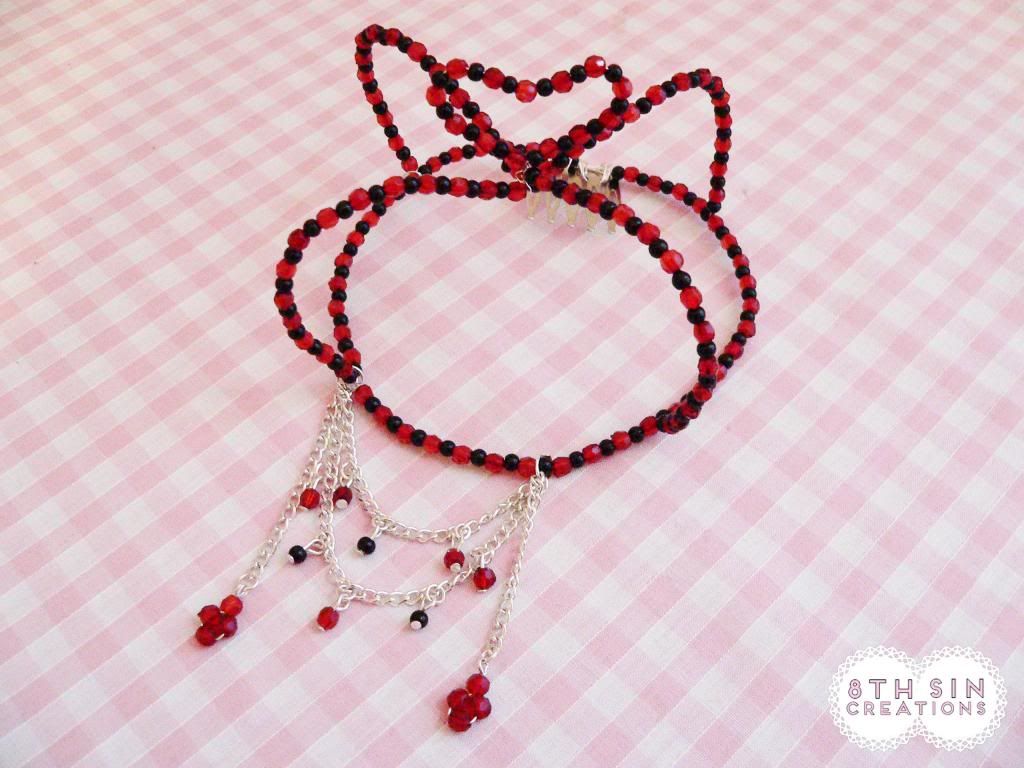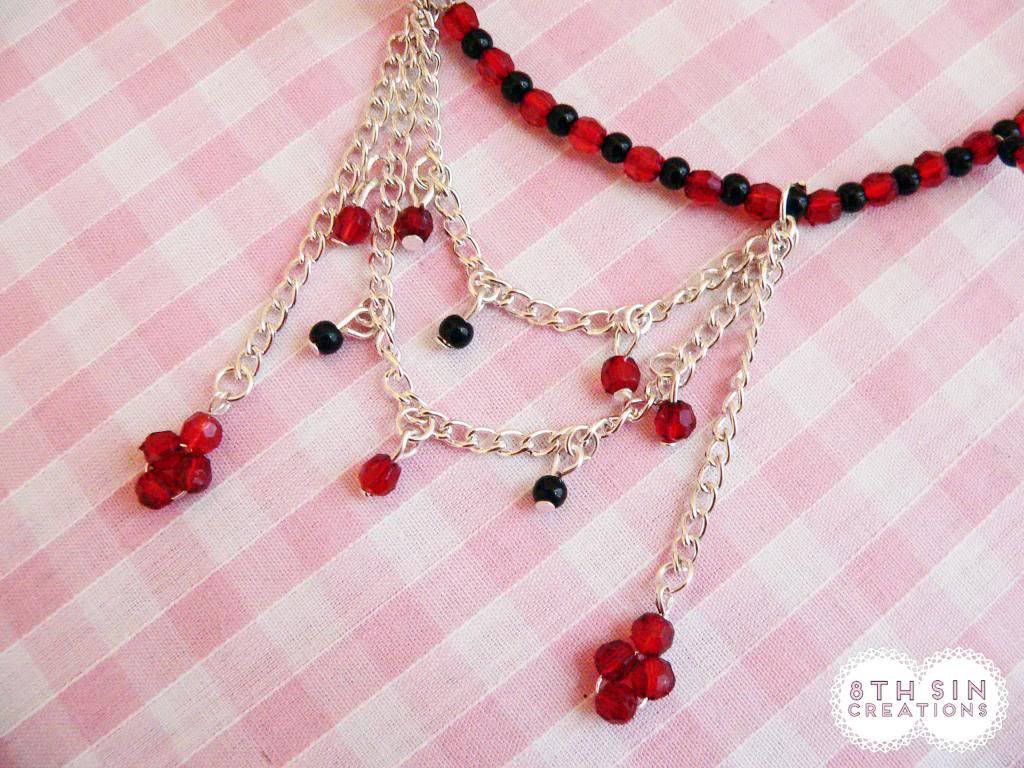 Beaded bases means I can add pretty dangling chains to them like above but it's a little harder and more noticeable to tuck away the loose ends of wires. Here are some photos to show what I mean: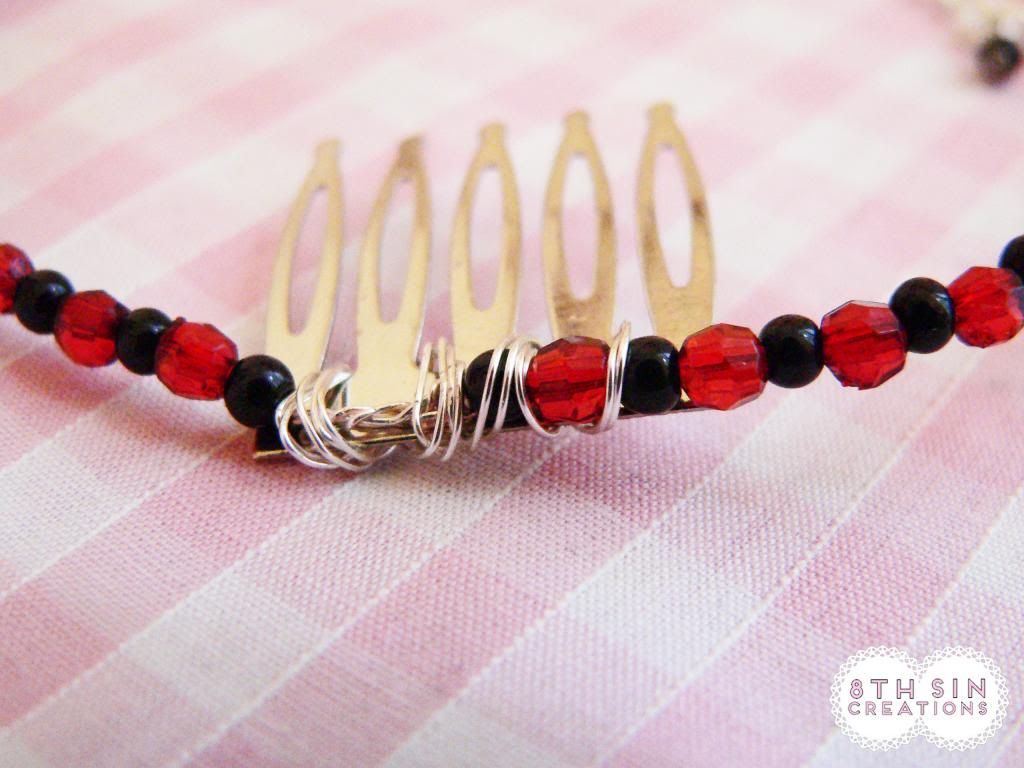 I can't really attach crocodile clips to the beaded bases unless I wire them on, which I may do in the future but it will mean buying differently designed crocodile clips to make wiring them on easier. Due to having to thread the beads on the wire base then connect the base together at both ends, there is a small amount of wire left exposed and uncovered by beads, possibly around 2-3cm. I took this opportunity to wire the hair comb around there but you can still see the gap as well as the wire wrapped around the comb.
You can also slightly see where I've wrapped the loose ends of the wire arches around the base too - I've tried to wrap them inbetween beads but it's still visible.
Are these slightly noticeable wires okay? Would you be happy to buy the crown like this or would you prefer me to try and find another way to conceal the wires better? Like many people who make their own work, I can see flaws in my design but other people might not mind so much. Perhaps the slightly visible wires contributes to a more 'beautifully flawed/handmade' look? I really don't know, that's why I need your advice! Please let me know what you think!
Oh, I also forgot to mention - normally I don't really like using hair combs as I find them hard to wear as they slip out of my hair, not to mention I was worried whether one hair comb would be enough for a beaded crown but these are actually really nice to wear with hair combs! The crown isn't heavy so it doesn't slide down your head. I teased my hair a little bit on the underside and this make the hair comb grip very well. I also slid it through some of the hair on the other side of my parting too which aided the stability too; it doesn't even bob around when I move my head so I can't wait to wear it for J-Con!