Hello everyone! Today I thought I'd show you some items I recently finished and are now up for sale on my Etsy store! I have quite a backlog of these posts so I shall do them periodically!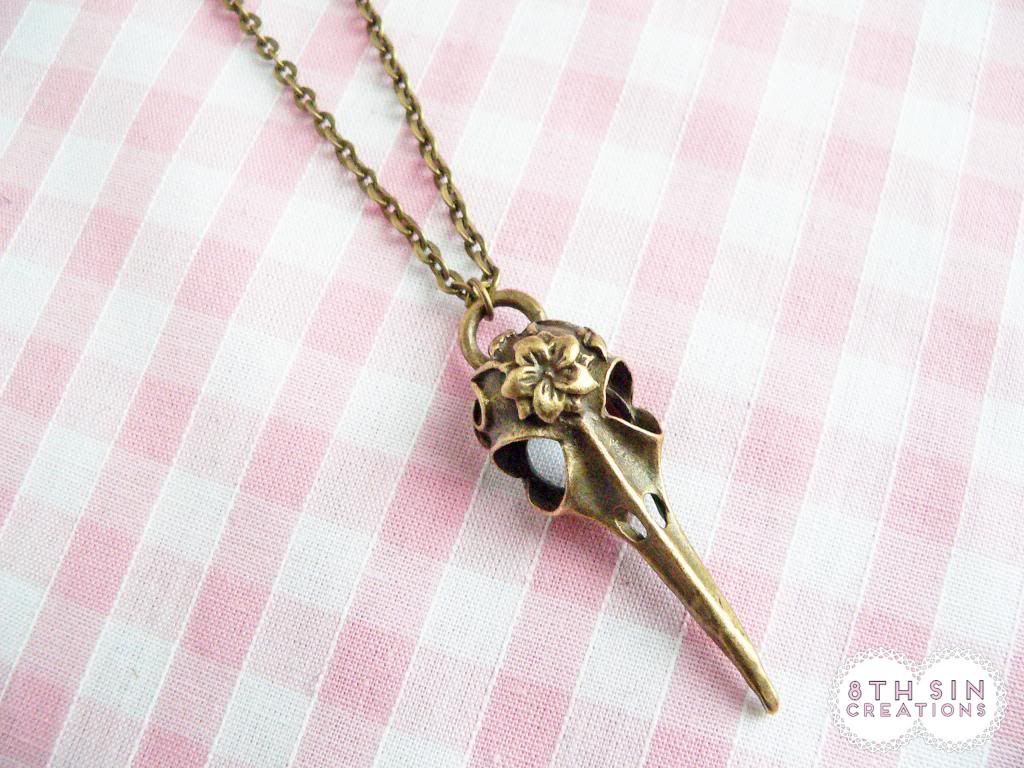 Antique Bronze Flowering Bird Skull Necklace - £6, available
here
I love the little flower on the bird skull's head, it gives it a slightly feminine touch on an otherwise macabre piece. I created this with Gothic, Lolita, Dolly Kei, Cult Party Kei and Mori Girl looks in mind due to the uniqueness but it can be worn however you like! I'm thinking of adding a little bronze flower link or something similar to add to it, what do you think?
Detachable Faux Fur Collar with Satin Ribbon Ties - £10, available
here
I've made faux fur hand muffs for a while now but I made these detachable collars just in time for winter (although not now with this post haha). I have black, white and pink in stock and can custom make one for you in almost any colour, also with a slightly longer fur for extra fluffiness (£5 extra). The ribbon may change from satin to grosgrain depending on stock availability but it will always be the highest quality I can get.
Faux Fur Lined Hand Muff - £11, available
here
I made some more hand muffs just to have ready and updated the stock photo for them. They are lined with dressmaker's satin lining and like the collars, I can make them in many colours and fur piles.
Want a muff and collar to match? I'll do both for just £15, any colour, £20 if you'd like a longer fur pile for both.
Are you all ready for Christmas? I'm awaiting items I've ordered online and will be picking up some items in town on Thursday, then I
should
be done! I've posted the last Christmas posting dates for both domestic and international locations on my
Facebook page
, it's not too late to get your items in time for Christmas for a few countries and of course, the UK!